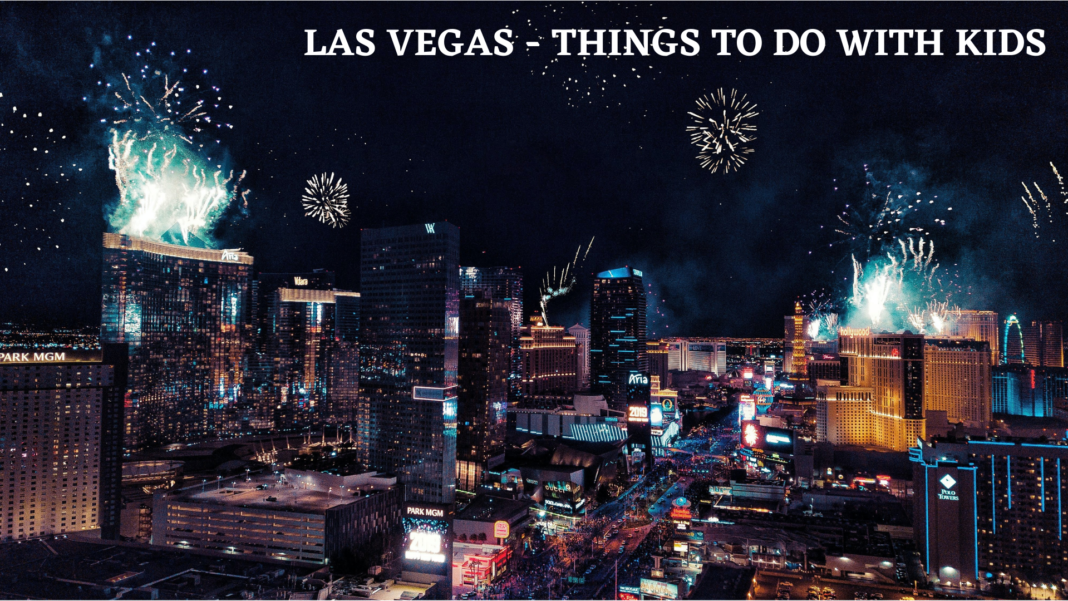 LAS VEGAS – THINGS TO DO WITH KIDS
Are you and your kids excited to see the largest  and most interesting city in the state of Nevada, USA ? Then without much ado make Las Vegas your next holiday destination! An internationally renowned, major resort destination, appropriately  labelled as the `Entertainment capital of the world'. As one of my co-passenger on the flight added during a conversation – it's a remarkable man-made getaway in the middle of the Nevada desert.
 I must mention at this point, and this is specially for those who are skeptical to vacation with kids in the city of casinos, gambling and glamorous shows. Be assured, Las Vegas is one of the most kid friendly places in the world, having a bunch of attractions meant solely for children. Kids  love Las Vegas, for so many reasons as elaborated in this blog.  
WHEN TO GO
 Las Vegas  has a sub-tropical, hot and dry desert climate, which is typical of the greater Mojave desert, in which it lies. Summer months between June to September have extremely high temperatures. Hence, the ideal tourist season is after that. Though I believe weather is not at all a deterrent for travel  enthusiasts who are  keen to travel all year round . 
THINGS TO DO WITH KIDS – LAS VEGAS STRIP
The colorful Las Vegas Strip is the center of gravity of this desert oasis. Is lined with varied-themed casino resorts, shopping plazas and fine-dining restaurants. The effect is heightened in the night, with it's  dazzling neon lights and myriad, mind boggling live shows.
Whether you're walking or driving, keep in mind, the Strip distances are deceiving. What looks like a stone's throw away always takes longer to reach. Las Vegas is an easy place to get around… most of the spots are walkable. Cabs and uber are easily available within minutes. It also has an excellent public transport system like the monorail and buses for the convenience of tourists.  
THEMED-RESORTS –  ACTIVITIES FOR KIDS
Here I have come up with a list of all the varied themed hotel resorts on the Strip and the activities each of these offer : 
1) Bellagio  – has a Conservatory and Botanical gardens, blooming with a huge variety of colorful , magnificent flowers, plants and trees. This is the also the venue for the  musical fountain sound and light show on its man-made lake, every evening at a fixed interval ,i.e., 8 and 9 pm.  This grand show is a must-see for families and kids. To have a proper unhindered view , it is advisable to reach the lake few minutes prior, before the crowds start collecting. 
2) Mirage – the best part about Mirage and one of our favorite too was the `friends with dolphins show'. This half an hour paid show is full of fun and frolic.  Guests get to interact with these mischievous though gentle beings . There's also the Siegfried and Roy's secret garden, where you can spot the white tiger and leopard. 
3) New York-New-York –  as the name suggests recreates the charms of New York  right in the center of Las Vegas. Has the iconic Statue of Liberty, Brooklyn Bridge and the Empire State building. Also  located here is Hershey's Chocolate World, a flagship store having a variety of chocolates and candies. No wonder New-York hotel is kid's favorite place! 
4) Paris –is there any need to visit New York or Paris when it's all there in one place, i.e., Las Vegas?? Paris hotel  has a huge replica of the Eiffel Tower. The best views of the dazzling, neon lit Strip is definitely from it's observation deck on the top of the tower. It's a nice idea to buy a ticket and spend some time here to enjoy the fabulous views. 
LAS VEGAS MALLS
There are so many free activities in Las Vegas for everyone – kids, youngsters, adults. There's no dearth of entertainment for kids in `Sin city' as it is popularly known as. A  good way to know what is going on around is to check on the app too. 
Equally worth exploring are the numerous luxurious malls and shopping arcades of Vegas. 
5) Venetian – stepping into the plush interiors and  impressive architecture of this mall transports you to Venice. Not just the ceiling resembling the star-lit blue skies of Venice but also the Grand Canal flowing through it's center. Tourists can even opt for a paid gondola ride. In addition, to enhance the authenticity of the experience, the gondola drivers sing  melodious songs . The Venetian is an ideal place to chill,  indulge in a shopping spree at the signature stores of luxury brands or dine at a multi-cuisine restaurant. 
Las Vegas is a destination where you're sure to find an adventure at every corner.  Visitors beware! don't be alarmed if suddenly you hear a thunderous explosion as you're walking down the Strip with your family !! This is actually the volcano show that takes place outside the Mirage hotel. Your heart would skip a beat as the  massive, artificial volcano erupts, spewing out smoke and fire, accompanied by riveting music in the background. 
6) Freemont Street – this is the most famous street in the heart of downtown Las Vegas. Being the casino corridor of Nevada, it has famous, high-end casinos and pubs . This spot has a very retro vibe. Covered with a dazzling canopy, there's a zipline running through the roof for some adrenal pumping action! 
7) High Roller (Ferris wheel) – another to-do activity in Vegas is a 30 minute ride on the 550-foot tall giant Ferris wheel. Amazing views of the glittering Boulevard and far beyond is the highlight here. 
Another in the list of theme hotels is the Pyramid, represented by a huge black pyramid shaped structure visible from a distance. 
GRAND CANYON NATIONAL PARK
A trip to Las Vegas, Nevada would be incomplete without visiting one of the  Wonders of the World – the Grand Canyon ! Located in the state of Arizona, it takes approximately one and a half hours, first by  bus and then helicopter, to reach the Grand Canyon National Park from the Strip. Make sure to pre-book all the tickets in advance to avoid disappointments. 
 Discover incredible aerial views aboard the helicopter ride as it soars over the park's most astonishing rock formations and features ! The exposed layers of colorful rocks are created by the incision of the Colorado river and it's tributaries. From the chopper, the Navajo bridge and lake Mead can also be seen. 
This was the most unique, natural phenomenon we had ever seen. The stunning views of the enormous flame-colored walls plunging 4800 feet down into the gorge of the Colorado river is absolutely intriguing.  The Grand Canyon is also a World Heritage site. 
These are a list of things to do with kids in Las Vegas that await you . We had our fair share of fun !! Remember to take this list on your vacation to Vegas. Comments on this blog are welcome!