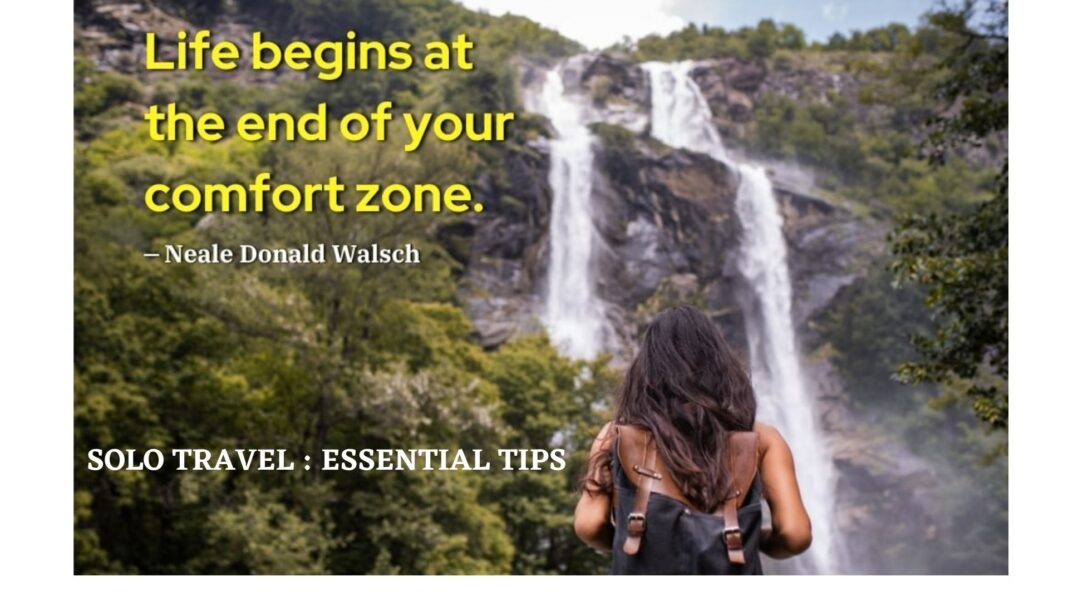 A surge in the percentage of solo travel seekers over the years indicates that more and more people  are treading the path of adventure travel and independence. Solo travel may be a choice for the majority of travelers, though few others undertake it out of compulsion. Either ways, it has become easier to travel solo nowadays. Thanks to the current digital era where technology and accessibility to an array of apps, social media and other resources has made this possible. 
The graph below shows an increasing trend in solo travel in the past two years (due to the pandemic figures of 2020-21 not included) :- 
BENEFITS OF SOLO TRAVEL 
Let's take a look as to why people are preferring to travel solo. Firstly, the immense freedom that it entails is incomparable to anything in the world. No disturbances, no one to  interfere in what you do or don't do!  You can chalk out your own itinerary, change your plans depending upon your mood, stay at a particular place for a longer time  or leave  if anything is not upto your liking, decide what you want to eat or drink. Basically, you get to do what gives you happiness and fulfillment. Most of all solo travel , gives oneself ample ` me time' to introspect, reflect on your life, paving the way for a new you. For many, it can be a life changing experience. 
Apps and sites that connect like-minded people, other solo travelers, hosts for dinner, bed, tours are so convenient.  Apps such as the language translation app  are a plus. Going by the increase in the percentage of solo travelers over the years,  travel companies have come up with exclusively curated tours for solo travelers. 
TIPS FOR FIRST TIME SOLO TRAVELERS 
For first time solo travelers, along with the excitement of traveling alone, there's bound to be some degree of anxiety. All types  of questions would definitely crop up in your mind. As such it is advisable to be cautious and plan well in advance. Here are some tips : 
To begin with, plan a short 

4-5 day

 trip to a known place to see how it unfolds.

 

Do a thorough research of the place, accommodation, distances and safety concerns.

 

Book hotels/ tickets in advance.

 

Leave your details back home – contact number, address where you would be staying, places you're going to visit etc.

 

It goes without saying avoid wearing expensive jewelry/ stuff. Be cautious!

Dress in such a way that you blend with the locals and don't appear like a tourist.

Being in good health is an essential 

requirement  if

 you want to travel alone. Carry light, healthy snacks and nuts, eat healthy, have more fruits. Always carry important medicines.

 
INPUTS FROM OTHER SOLO TRAVELERS 
Initial apprehensions are bound to be there, for first timers, but with experience you gain confidence. I've had the chance of interacting with few  solo travelers, and they've mostly had pleasant experiences. To quote one travelers experience in Thailand, " I asked for directions from many who willingly guided me to the Wat (Buddhist temple)".
" I proceeded towards the river,  asking many people for directions, just to start a conversation. A group of people though did not understand me, were ready to help. indicating me to come with them, they lead me to a place where there was a signboard."  
 I myself have come across a female solo traveler at 10.30 in the night as we alighted from a water taxi in Venice. With poor lighting and deserted streets, anyone would be lost! I must give credit for her boldness, she started a conversation and  requested if she could accompany us till the next lane where her hostel was situated. 
Aren't these great confidence boosters? Contrary to popular belief, people are friendly and helpful, specially when they find someone alone. You just have to learn to trust. What experienced solo travelers advise for first timers is to be social, amiable and extroverts. Be open to meeting people and starting a conversation". 
By my own personal experience , I must mention  there is no assurance that if you are traveling with family or in a group everything will be hunky dory!! On our trip abroad in 2018 one of the cabbies , took us for a ride, literally drove around in circles, feigning  ignorance of our destination when actually we were very close  to it. Such incidents can happen with anyone, what is required is to be vigilant. 
Worldwide statistics for Solo Travel
This blog would be incomplete if I don't write about the drawbacks of traveling solo. At times, being on your own can make you feel lonely and at times you may miss family and friends. Also, in case you fall sick it may be a problem. Hence,  maintaining good health and being mentally strong is essential!! 
The greatest advantage of solo travel is that it changes our perspective and broadens our vision of the world. So, if you've not yet experienced the joys of traveling solo and are contemplating about it. Or searching for information on how, when and where to begin, then take tips from this blog. Gain  confidence, take the first step by investing in a good quality backpack (an essential requirement) and let the magic of solo travel unfold. 
 So here I am recommending a very good products for your to check
this is
12 Pieces Eyelash Makeup Bags Canvas Cosmetic Bags Multipurpose Travel Pouches Eyelash Toiletry Bag Cases with Zipper for Women Girls (Pink) – Click Here